Westchester's first taiyaki and dessert bar to open at Rye Ridge Shopping Center
September 14, 2023 at 1:41 a.m.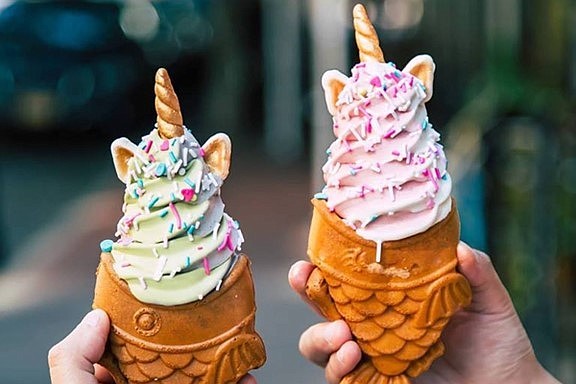 ---
Mama Mia Dessert Bar will be opening in the late Fall at Rye Ridge Shopping Center in Rye Brook. The business has signed a long-term lease for 1,500 square feet in the space formerly occupied by Red Mango in the front portion of the shopping center.
The management of the shopping center believed it was important to replace Red Mango with another "frozen concept" as the use was well loved by the community and has been greatly missed. Mama Mia will be the first Westchester location to feature taiyaki (Japanese ice cream). The store will also serve mochi doughnuts, shaved snow and Korean corn dogs.
This lease follows the recent one to Japanese powerhouse Daiso which plans to open in October at Rye Ridge Plaza around the back of the shopping center.
Lovers of taiyaki and mochi doughnuts will no longer have to travel to New York City to indulge. Taiyaki ice cream, easily recognized due to the fish shaped cone similar to a waffle is very popular in NYC and Los Angeles and the shopping center management is honored that it is making its Westchester debut at Rye Ridge.
Customers will have the option of choosing signature taiyaki creations such as "Straight – Outta Japan" made with matcha black sesame ice cream, a red bean taiyaki cone, unicorn ears and horn and topped with unicorn sprinkles.
Mochi doughnuts are made from sweet, gluten free Japanese flour that gives them a chewy, springy, light texture. Mochi doughnuts have 50% fewer calories than regular doughnuts. They are shaped into rings and each doughnut is comprised of eight rings fried together. Mama Mia will feature imaginative mochi doughnut selections such as churro, Nutella, black sesame and guava pineapple.
In addition, Mama Mia will feature Japanese corn dogs with unique creations available such as "Original Crispy Ramen Hot Dog" and "Hot Cheetos Mozzarella." They also plan to serve elegant shaved ice and bubble tea.
"We really felt it was vital to replace Red Mango with a frozen concept," said Erin Hinchey, leasing agent for the shopping center. "It's essential to a well-rounded shopping center. I am personally excited for people to discover taiyaki ice cream, mochi doughnuts and Korean corn dogs for the first time. Having a dessert bar that features delicacies that no other shopping center offers is obviously pretty special."
---