Two ex-Trojans play side by side in NCAA tourney
It's an almost certain Blind Brook soccer first
November 15, 2023 at 11:48 p.m.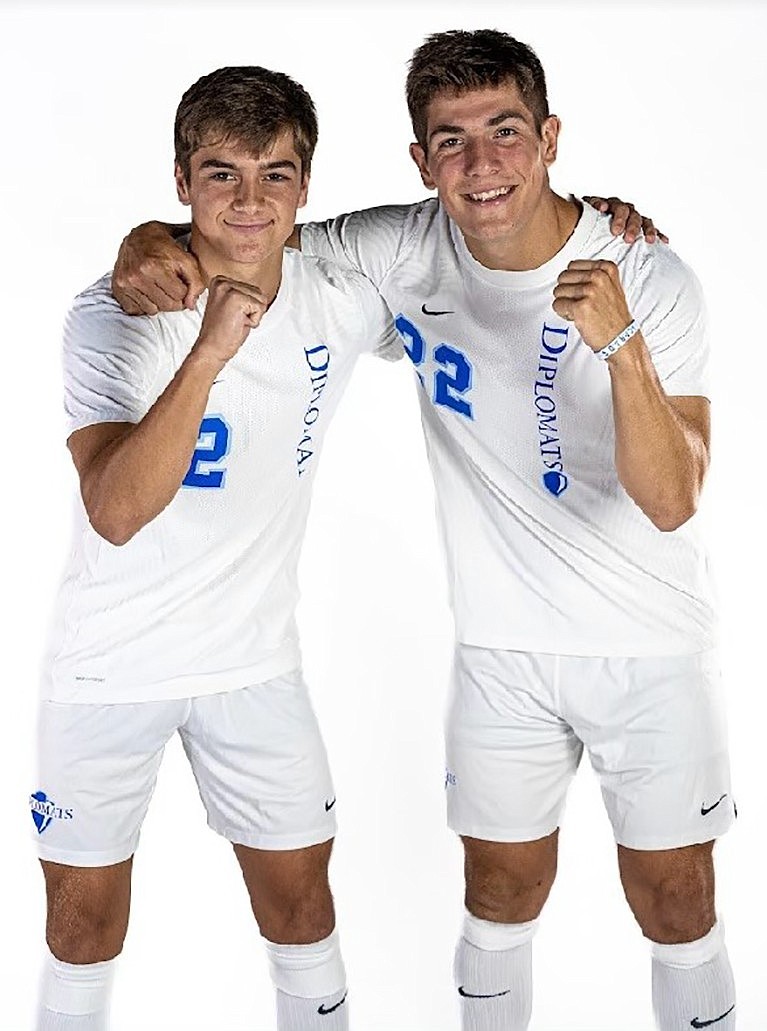 ---
In what is almost certainly a first in Blind Brook soccer history, two former Trojan captains who also happen to be the best of friends started for the nationally-ranked Franklin & Marshall men's soccer team that made it into the second round of the NCAA (National Collegiate Athletic Association) Tournament's post-season championships this past Saturday (11/11) in Lancaster, Pa.
Their F&M team played through two overtimes with the score tied at 1-1 only to lose to Connecticut 7-6 on penalty kicks at Tylus Field with the two ex-Blind Brook players—junior Isaac Mintz and freshman Nico Gonzalez—playing almost every minute of the thrilling game on their home pitch.
Penalty kicks decision
It was a game so well played that it was almost a shame that both teams couldn't win, but in the end it was the Camels (12-1-6) over the Diplomats (14-3-3), the second-consecutive season the F&M Diplomats lost in a post-season shoot out.
It also marked the 10th consecutive season that F&M, ranked as high as number four nationally, had made it into the NCAA Tournament, soccer's version of collegiate basketball's Big Dance.
So chances are Mintz and Gonzalez will both be back there again next year.
Both will be a year older and better and that is mighty fine indeed because Gonzalez received All-Conference Honorable Mention and Mintz made the All-Conference Team for the second consecutive year.
Beyond the game
But this isn't a story about that post-season NCAA game or the F&M soccer program, which is one of the best in the country.
It is about two local kids who made it onto collegiate soccer's biggest stage and how they got there.
It is a simple story until it gets more complex because it involves other key Blind Brook players who have shared a similar stage along with some who haven't but played a major role because of their immigrant drive.
Nico and Isaac get their kicks from soccer, Nico from an early age (around 5), Isaac a late bloomer (who played mostly basketball and soccer almost up until high school).
Enter Marco & Marcos
But now their head is always in the game. Their goal is to go all out from the get-go so they have their eye on the prize, a nose for the ball, an instinct for where it is going to land and the drive to be in the right place at the right time when it gets there. They have the ability to bury the ball in the net and keep going for as long as it takes, ignoring sore feet, stubbed toes, sprained ankles, strained hips and any number of injuries because they have a genuine love of the game nurtured from an early age on the playing fields of Rye Brook by a Spanish immigrant-turned-restaurateur named Gonzalez who has seen his young charges soar to the highest of collegiate soccer heights after their Blind Brook playing days ended.
That Gonzalez is first-named Marco, Nico's father and one of the prime behind-the-scenes players in Rye Town soccer, an unsung age-group coach who has been teaching the ABCs of the game to lots of Rye Brook kids on different levels on various pitches, from the slow ballers to the high rollers on fast-paced travel team soccer academy teams where the prodigies start their climb up the ladder.
Nico was fast-tracked early, following in the footsteps of his big bro Martin (pronounced Mar-teen), also a former Blind Brook captain, one of Isaac's best friends, and another ex-Trojan player who played in the collegiate Big Dance competing for a Williams team that made it into the NCAA soccer semi-finals last year.
Coincidences pile up
Here's where the coincidences start piling up.
Marco, Nico and Martin's dad, became friendly with Isaac's dad, David, who coached local baseball and softball teams, but admittedly knew nothing about soccer. Marco saw something in Isaac and told David, an accountant and financial industry exec, that Isaac should try out for a beginning travel team in soccer. David did just that, only he took Isaac to the wrong tryout on the wrong field. Instead of the beginners, Isaac, in basketball jersey, baseball cap and sneakers, tried out for the fast-paced A-team with the local best-of-the-best. And made it. He was on his way.
Enter Marcos, another Blind Brook coach, Marcos Monteagudo, to be exact, who called Isaac up to the varsity as a freshman where he teamed up with Martin Gonzalez on what became very good Trojans teams.
Only Martin got creamed by a Bronxville Bronco in the fourth game of their senior year season and came away with a fractured right shoulder that cost him that year, a costly injury for him as well as the Trojans. But Martin and Isaac still both made All-League and All-Conference, both looked good at collegiate tryout camps and both were recruited to play college ball, Martin for Williams and Isaac for F&M while their Blind Brook coach, Marcos Monteagudo moved on to Scarsdale where his Raiders high school soccer team has won the last two state championships.
Nico played mostly travel team soccer academy ball, which prohibited him from playing Blind Brook varsity soccer because of scheduling conflicts and bureaucratic club rules in effect at that time. So he came to the Blind Brook Trojans late but made up for lost time fast with a senior year that resulted in his being named captain, making All-League and All-Conference and being recruited by F&M, a school that offers 28 varsity sports, the largest offering among Centennial Conference schools playing a mostly Division 3 schedule.
Both the Mintz and Gonzalez families were there in Lancaster to cheer their boys on in that NCAA game, David with his wife of 26 years Jill, the girl he met when they were both college students at SUNY Albany, and Marco with his wife Rebeca whom he met when they were growing up in Tumino in the province of Galacia in northwestern Spain.
Soccer family affair
"So we're basically immigrants from Spain," Marco said. "I'm from a soccer family," he continued, explaining his passion for coaching soccer came from his love of the game. He played for Chaminade on Long Island, as did his brothers, Jack and Philip, with both brothers going on to play for Cornell as do Jack's two daughters. Marco and Rebeca's daughter Lola made the Blind Brook varsity soccer team as a freshman and was standing on the sidelines with her parents, her face still black and blue from a head on collision with a Bronco during the Lady Trojans' playoff loss to Bronxville with the impact nearly fracturing her jaw, the injury leading to a remembrance of the way big bro Martin fractured his shoulder playing against the Broncos.
David mentioned his daughter, a former gymnast, was a nursing student at Case Western so she couldn't be at the game, but he was glad they were there. Both moms were more fans than students of the game, they said. All agreed they were sorry F&M lost, but it had been a great game nonetheless. The Mintz family was staying in Lancaster Pennsylvania Dutch country overnight. But Marco and his family had to hustle back home to Rye Brook shortly afterwards, a three-hour drive, because "we're also a restaurant family" with two popular restaurants in Manhattan, the Spanish-accented Tomino Taberna Gallega on Grand Street and the Italian-flavored Trattoria Trecolori in the Broadway theatre district. So Marco had to go to work.
But both families expect to be back next year to see Nico and Isaac play in yet another Big Dance NCAA post-season playoff series. Hopefully with better results.  
 The Rye Brook Raptors 2010 U10 boys' soccer team. Isaac "The Wall" Mintz is first from left in the back row, in front of assistant coach Norman Scott. Martin Gonzalez is third from right in the back row. Coach Marco Gonzalez is at far right. This was the Raptors' second season.
 Courtesy of Marco Gonzalez   
---