Football Rams win 'Friday Night Lights' game with a ground-and-pound beatdown of Panas
September 13, 2023 at 11:50 p.m.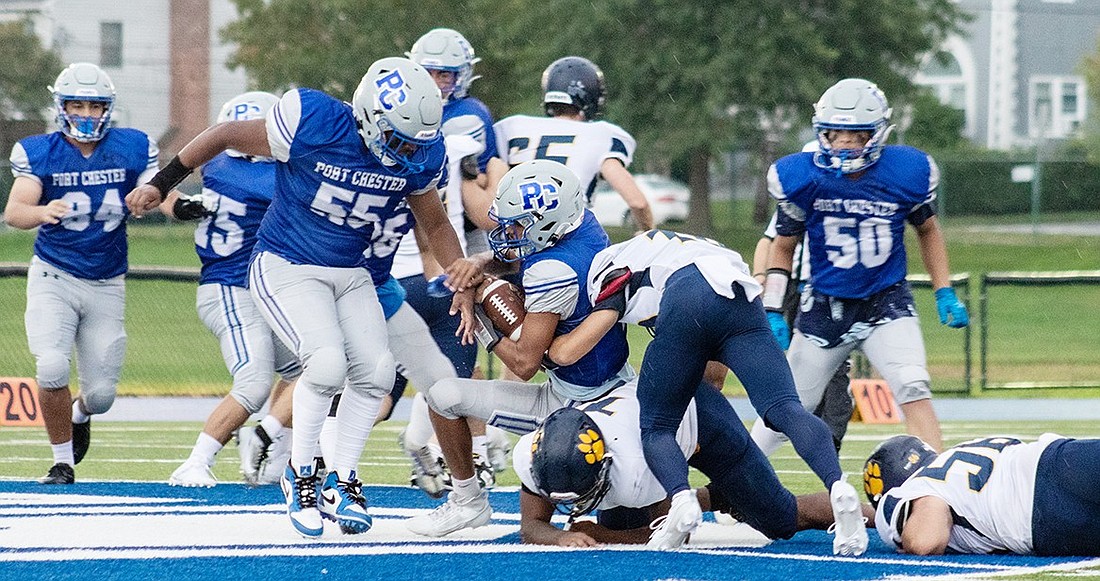 ---
In a dramatic turnaround performance that made them look like a different team from the one that opened the season with an embarrassing 41-8 home loss to Tuckahoe, Port Chester's football Rams beat Walter Panas 21-12 last Friday (9/8) at home under the lights with a newly found ground-and-pound game that featured touchdowns on long runs by John Pauletti, Alexis Morel and Scott Sullivan, tough defense from Jaden Barbour, and three points after touchdown kicks from the educated toe of Brian Aguilera.
Pauletti scored early in the first quarter, Sullivan scored late in the fourth quarter, Morel scored midway through the third quarter and the Rams were driving towards their fourth TD when Morel started taking knees to run down the clock rather than run up the score against an already beaten team as time started to run out.
Classy Rams move
It was a classy move by a Rams team that already knows what it is like to be on the wrong side of a score.
"It was a great team effort," head coach Chris Halstead said after the game. "Sophomore Alexis Morel came in and did a great job at quarterback. John Pauletti continues to get better. Jaden Barbour made some game-changing hits on defense. And Brian Aguilera has done a great job as a senior first year player who was a game-changer by going 3 for 3 kicking extra points."
It was all that and more as "Friday Night Lights" came to life on what looked like a Port Chester stage.
It all took place under star-less, ever-darkening, storm-ravaged skies with the emerald green gridiron lit by 10 sets of lights—five on the left side of the field, five on the right, plus one set behind each goal post.
The dramatic setting
The manmade lighting against the brooding natural skyscape made John Ryan Stadium look like a stage set with flickering red lights on the scoreboard telling the game's statistical story while the stars on the playing field fleshed out the storyline.
And those stars took their turns shining, from the local first responders—firefighters, cops and EMTs—honored by the Rams Football Booster Club with a pre-9/11 ceremony to what looks like a new Port Chester one-two-three punch, junior power back Pauletti running, sophomore Morel quarterbacking and senior Aguilera kicking.
Waiting in the wings for their own star turns were Barbour, the Rams heavy hitter, and change-of-pace running backs like Sullivan, the baseball Rams catcher, and Track & Field sprinters John Delcid and Marc Dorsainvil, the latter two the team's fastest runners.
Natural soundtrack
The soundtrack leading up to the game included thunderstorms, downpours and a rising heat index that gave way to a light drizzle at the 6:30 p.m. start which had its share of early surprises.
Morel emerged as the Rams' new quarterback, running the ground-and-pound attack smoothly with his handoffs starting in the first quarter when Pauletti ran away from what looked like a herd of tacklers, shedding them like raindrops to turn what looked like a short burst up the middle into a 53-yard touchdown run. Aguilera kicked the extra point. And the Rams had an early 7-0 lead.
It was an impressive first response that was short-lived because Panas came right back with a 29-yard touchdown pass on fourth and five with 6:11 left to play in the first quarter. They went for a two-point conversion and missed. So the Rams were up 7-6 at the outset.
Breaks of game
But that one-point lead could just as easily have been a six-point deficit because Panas recovered a fumble on the Rams' 15-yard line. Their quarterback launched a quick pass into the end zone that looked like a sure TD until the refs ruled that the Panas receiver had stepped out of the end zone as he caught the throw with 4:53 left in the quarter. The Rams caught another break earlier when Panas was driving for a TD on Port Chester's four-yard line only to fumble away the ball.
Both teams slugged it out during a hard-fought, give-and-take second quarter that included a costly Rams fumble on their own 21-yard line with 3:05 left before half-time. Panas recovered and moved slowly, relentlessly downfield, with the Rams making them fight for every inch. But just when it looked as though Port Chester was going to hold the line, an offside penalty cost the Rams five precious yards. With 1:03 left, Panas was on the Rams' one-yard line. And after what seemed like an eternity of downs and ups, they hadn't gained much ground. With 38 seconds left, Panas was on the Rams' half-yard line and with one last surge, they scored. Barely. And once again they missed the two-point conversion. So it was 12-7 Panas at the half.
Colorful light show
That's when things started to really look surreal. Because a fleet of fire trucks—on hand as part of the honoring ceremony for the first responders—left the school grounds, lights blazing, red, yellow, as the engines exited and circled the block, heading home to their stations, a dazzling kaleidoscope of color that lit up the silhouette of the school buildings. And that set the stage for what was to come, a football chess match between the two coaches with Halstead going for a first down on fourth and one and missing on the Rams' 32-yard line to start the third quarter and Panas continually gambling on their passing game to score. But their quarterback couldn't connect with his receivers because of the heavy Rams' pass rush. So it was a game of contrasts that matched the Rams' running game unfolding without a pass being thrown while Panas kept passing with very few runs in between. And that's the way the game went as the Rams and Panthers went back and forth.
The difference essentially came down to the fact that the Rams had a battering Ram in Pauletti and Panas didn't.
And that is a story itself.
Because at one point in the third quarter, it was Pauletti up the middle for four yards, Pauletti off right tackle for four yards, Pauletti off left tackle for four yards, Pauletti up the middle again for four yards. And when it looked as though Pauletti was never going to stop running the ball and Panas was never going to stop keying on him, Morel faked a handoff to Pauletti and took off down the left sideline from the 29-yard line on his way to scoring a TD at the 6:24 mark. Aguilera kicked the extra point, and the Rams were back in the lead 14-12.
The JV and Mod Squad
In the upper far left side of the grandstand, the more than 30 Ram modified and junior varsity football players in their Port Chester blue-and-white jerseys stood as one, saluting the varsity Rams, forgetting—at least for the moment—the tween and teeny boppers so many of them had been flirting with and vice versa. "That Alexis Morel, I love what he is doing," one kid excitedly told me, bursting with enthusiasm he just had to share with an adult someone, anyone, whether he knew them or not. "And Pauletti is just playing lights out football."
The kid was right. But Morel and Pauletti weren't done yet. Because deep into the fourth quarter, the Rams were still clinging to that two-point lead with that same Pauletti up the middle ground-and-pound onslaught eating up the clock until once again Panas keyed on him like he was the Rams' only running threat. But he wasn't and isn't. Because Sullivan, overlooked until then, took a handoff and raced down the right sidelines from the 37-yard line and ran untouched into the end zone for the TD that put the game away. It was 21-12 when Aguilera kicked the extra point with 9:27 left to play. With the confident way the Rams were playing, that looked like it was going to be enough. And it was.
When Halstead said it was "a great team effort," it was.
Won in the trenches
The game was won in the trenches with a lot of unsung players doing the mainly unseen work that helped their backs break loose while holding Panas in check. And that means a shoutout is due for all the Ram players including Jayden Arbusto, Anthony Escobedo, David Escobar, and Alejandro Velasquez first and foremost on a team whose solid contributors also included Tony Espinosa, Brian Rivera, Nate Provencher, Franklin Cabrera, Emmanuel Diaz, Kevin Perez, Juan Hernandez, Fabian Mendoza, José Lopez, Julian Estevez, Kevin Cervantes and Jaycee Rodriguez.
Behind every one of those names there is a story. But this story's ending will close with just one name that helps flesh out what the football Rams are all about and that name is John Pauletti who scored the game's first touchdown against Panas, scored the Rams' only TD and two-point conversion last week against Tuckahoe (they were incorrectly attributed to Nate Provencher in last week's story), built up his strength, speed and conditioning working out with the Rams Track & Field team outdoors last season throwing the shot, discus and sprinting, all the while bucking the odds stacked against him while uncomplainingly overcoming numerous medical problems including a heart condition that would have sidelined someone less determined.
"He is a man among boys," Halstead said after Pauletti scored the winning Homecoming game touchdown at the end of two overtimes last year.
As a junior, Pauletti still has a lot of Rams football left to play. And that was to start with Port Chester's next home game Thursday (9/14) against Briarcliff-Hamilton when the Rams hoped to continue their turnaround and maybe even add passing to their ground-and-pound game. However, that game has been postponed with no new date set as of press time.
---