B.B. girls' soccer kicks off long-awaited season
Young team with strong leadership will need time to coalesce
September 14, 2023 at 12:01 a.m.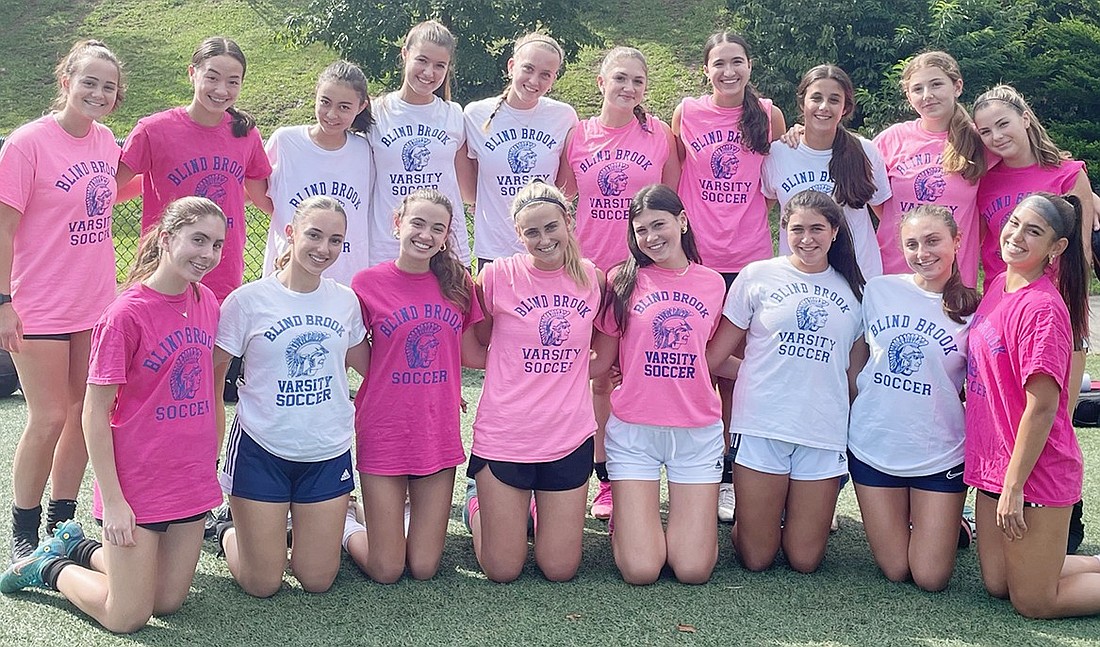 ---
Blind Brook High School's varsity soccer programs have always been the fan favorites of the student body; attendance at their games often rivals or beats that at the school's football games. Both the girls' and boys' programs garner more interest in both participating and cheering on than the school's other sports. However, this year, with the football program's merger with Hastings officially being denied, the spotlight rests solely on the two soccer teams.
This adjustment is particularly severe for the girls' team, which usually has fewer in the stands watching their games. For this season, however, the team is much of the entertainment the school has to offer—and it's a good one, too.
This year's team is led by senior captain Ava Shaw—for the third year now—and sophomore captain Kayleigh Curran, the two players headlining a star-studded lineup representing each grade. The team's six seniors—Shaw, Alexandra Beatty, Jordan Sternschein, Veronica Pallotta, Jessie Kron, and Marissa Savner—serve as role models to a young team with big aspirations for the year.
The lack of a football team is not the only oddity of this fall sports season—almost all of each team's games in the first week of the season were canceled due to extreme heat and heavy rain. Despite these weather-related obstacles, the Lady Trojans finally got out onto the field for the first time on Tuesday, Sept. 12 away at North Salem. While the game does not seem particularly remarkable on paper—Blind Brook lost 3-0—it was a necessary step for a talented team with a new mix of young players.
"It was the first game, so we just didn't connect that well, being a new team," said senior Alexandra Beatty. "By the third or fourth game I think we will be a really good group."
Beatty's theory will next be put to the test on Monday, Sept. 18 at an away game against Yonkers Montessori Academy at 4:30 p.m. That next Wednesday, Sept. 20, the Trojans will take on Briarcliff at home, also kicking off at 4:30 p.m. To close out the week, on Friday, Sept. 22, the team will travel to Westlake to try their hand at the Panthers, once again set to begin at 4:30 p.m.
---