Affordable housing resident seeks sustainable change after filing discrimination complaint against Kingfield
September 14, 2023 at 1:07 a.m.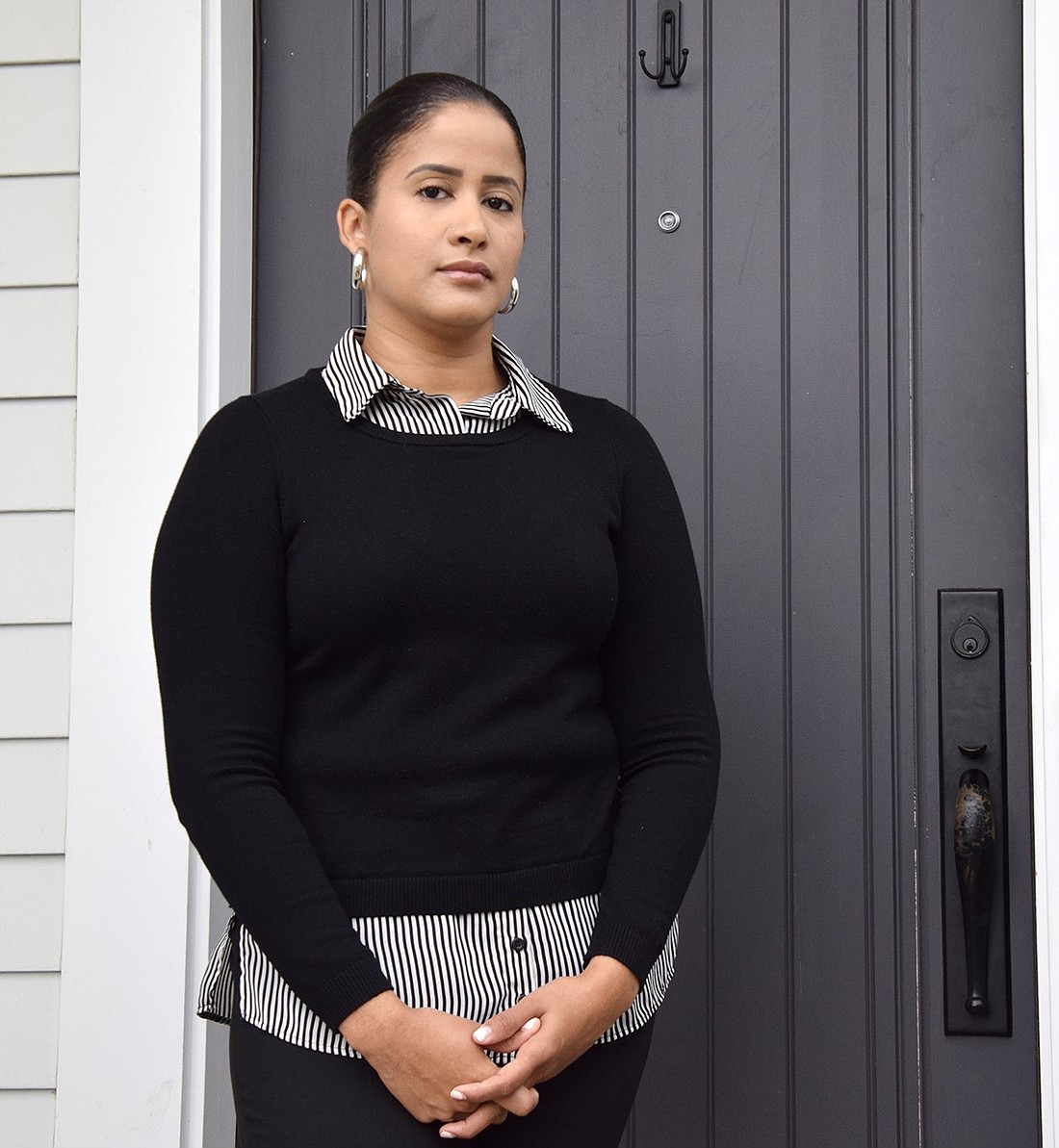 ---
Exhausted, with new motherhood shadows shading the puffs under her eyes, Laury De La Cruz sat in her living room on a November 2022 morning, methodically rocking a stroller back and forth in hopes that her four-month-old baby would find peace in sleep.
"I never thought I'd be spending my maternity leave essentially being a paralegal," she chuckled, before pausing and taking a deep breath. "It's been so much work, putting this all together. It's not what I wanted."
Several months later, in June, that child was whipping around the house—stumbling in the exploration of discovering her legging with an infectious laugh, beaming smile and round, curious eyes. De La Cruz, albeit for reasons of different context, was still fatigued.
"I know people think of 13 as a superstitious number, but I couldn't believe how lucky I was to get it," she recalled. That was her lottery placement, making her family viable candidates to purchase one of the affordable units at the luxurious Kingfield housing development on the north end of Rye Brook at 1100 King St. behind the former Reckson Executive Park complex. She and her family moved in in April 2021.
"Before we were in an apartment in Yonkers; I could never afford a house—even the smallest and tiniest house in Yonkers. It would be impossible," she said. "So, when I saw the listing for this, I applied…In Westchester, normal people with average American household salaries, you cannot afford to live here. Not everyone is making $1.5 million a year."
The need for affordable housing is real, De La Cruz said, but it also must be propagated with equity at the forefront of consideration.
Around 19 months after moving to Rye Brook, on Nov. 3, 2022, De La Cruz had filed a discrimination complaint with the Westchester Fair Housing Board, a division of the Human Rights Commission, claiming she's been harmed by the Kingfield Lot Owners Association (HOA), its Board of Directors and its president, Judy O'Brien. Additionally, the complaint names Plaza Realty & Management Corporation, the company overseeing the complex, and its Vice President Richard Smeriglio as alleged victimizers.
While representatives from the Human Rights Commission declined to comment because the matter is ongoing, a report dated Apr. 4 of this year indicates that her case was granted probable cause.
The determination is not a verdict and does not indicate guilt, but it does suggest that De La Cruz has an experience under her belt that merits further consideration.
"…probable cause is merely a determination that there should be a formal hearing on the matter," the Fair Housing Board's report states. "It is a recommendation that the matter proceed to public hearing where all the parties will obtain a full and fair opportunity to present their contentions and testimony under oath and the issues can be resolved by an administrative law judge."
De La Cruz now awaits mediation, an optional step before seeing a courtroom attempting to find agreement between the parties. In preparation, she's constructed a series of demands—a list that, in large part, seeks sustainable change by tackling perceived issues within the system and the culture.
"I want to bring a little light to these things. I am one of God knows how many," De La Cruz said, and later added: "We're an underserved community…and I'm realizing these things are happening more than I was aware of."
The availability of affordable housing in Westchester is an ongoing conversation—one that saw a noteworthy turning point in 2009 after the county settled a federal lawsuit which mandated the construction of affordable units in the county's least diverse communities such as Rye Brook.
The Village, in 2011, adopted the county's model zoning ordinance and embraced the mentality of its purpose to facilitate the construction of more fair and affordable housing. As a regulation that requires no less than 10% of new housing developments to be deemed fair and affordable, the Kingfield complex fit the bill when it was approved in 2015.
Many of Rye Brook's housing developments are governed by an HOA, organizations that are not unique to suburban communities. According to the Community Associations Institute, as of 2019 over 70 million Americans belonged to HOAs, and it's a number likely on the rise—the U.S. Census Bureau reported that in 2022, 71% of new single-family homes sold in the Northeast were affiliated with such organizations.
A 2019 study published in the Journal of Urban Economics found HOA residents are "disproportionately White and Asian" and tend to be wealthier than non-HOA residents. And their presence, across media reports, has historically been embodied by a mixed bag of reviews.
While the comforts of maintenance and accommodation HOAs provide are a selling point, the bodies also have the potential to set strict rules and regulations on their homeowners and can impose fines if such mandates are violated.
A Hispanic woman originally from the Bronx, De La Cruz's experience is at the cultural intersection of where the rising presence of HOAs and affordable housing meet—the poster child, as she described it, of a reality faced across the country.
Claims of discrimination
After applying through the Housing Action Council, De La Cruz, 36, moved into her Kingfield home with her husband and two children in April 2021. The complex consists of 100 market rate homes listed for at least $2 million along with 10 affordable housing units confined to one street, Gardenia Lane.
A secretary working with the New York City Department of Education at the time, she was well aware of the potential discomforts implied, moving into a community with less diversity than she was accustomed to, but "as parents, we make sacrifices for the betterment of our kids," she said.
After a saga that started with a string of parking fees, she didn't expect to feel the way she does today.
The Fair Housing Board's report shines some light onto De La Cruz's claims that she's faced discrimination based on her income, ethnicity, familial status and a disability, and furthermore, that she was retaliated against when she became vocal about these qualms.
In the Summer of 2022, De La Cruz was home more than usual because she was on maternity leave, ultimately giving birth in June that summer.
The Fair Housing Board documented that on July 11, she received a violation warning from Plaza Realty, stating that her family was "creating a nuisance" by installing a Ring camera on their door, having string lights hung outside their home and having a third vehicle on the premises, which De La Cruz said was parked in a visitor parking lane across the street from their house, despite HOA regulations.
She sought accommodation, reporting that most issues had been addressed but the third vehicle was a work necessity for her husband, who was tasked with additional responsibility working night shifts as the sole source of income while she was on maternity leave.
A virtual hearing with the HOA board and the property manager to address the vehicle matter was arranged—an unsuccessful plea for De La Cruz, as "immediately following the hearing, (the family) received an email notice from Plaza Realty stating (they) had one week to remove their third vehicle from the property," the investigation reported. The HOA board denied their request for reconsideration or more time to comply.
Between Aug. 2 and Aug. 17, the family ultimately received 11 fines totaling $1,475 for alleged parking violations.
Contextually, the Fair Housing Board documented that the Kingfield affiliates reported in the two years prior to the De La Cruz's incidents, two residents of market rate homes and one other affordable housing resident had received parking tickets.
"The investigation revealed that unlike the two market rate residents, the third resident was required to attend and provide testimony at a hearing," the report stated. "None of these residents were fined."
After De La Cruz emailed Plaza Realty to claim the HOA board's "denial of her 'reasonable accommodation' request was discriminatory," she received a response from Smeriglio denying the accusation, the report reads. In that message, he additionally demanded she "cease and desist from any further defamatory communications or conduct."
Notably, De La Cruz claimed numerous times in private interviews that her family moved their third vehicle at this point and was being charged for a parked vehicle that does not belong to them. But, according to the Fair Housing Board report, the Kingfield affiliates stopped responding to her phone calls or emails, including requests for clarification regarding her fines.
The parking fees were ultimately rescinded in October. But De La Cruz claims that bias has been prevalent beyond practice—it's in the culture, she says, seen through their treatment and their access to facilities, specifically the mailroom and the pool. The Fair Housing Board investigation revealed that affordable housing homeowners are forced to use outdoor mailboxes while everyone else utilizes a mailroom in the Kingfield clubhouse, and more than one resident has claimed there are discrepancies in the enforcement of community pool policies.
Additionally, during De La Cruz's hearing over whether she could keep a third car on the property, she claimed "HOA president (Judy O'Brien) made multiple discriminatory comments," the report reads, such as statements questioning how she attained her home.
"Ms. O'Brien denied making these comments; however, during her interview with the Fair Housing Board, Ms. O'Brien stated she could not remember what was said during the meeting," the document reads.
Furthermore, De La Cruz told investigators that since the hearing she's watched O'Brien drive past her home multiple times, which she perceived to be a method of patrol.
"(De La Cruz) asserted that, based on the location of Ms. O'Brien's home vis-à-vis their home, she had no legitimate business driving past their home and did so to intimidate them," the document states.
O'Brien was briefly reached via phone call but hung up the phone after indicating she had no comment.
Smeriglio, on the other hand, provided a written statement: "While we cannot comment on specifics concerning a pending investigation, the Kingfield Board, community and Plaza Realty & Management have always been and remain committed to diversity and inclusion."
Making a forever home
As De La Cruz moves into the phase of mediation, she said her motives are beyond her personal experience but rooted in changing the system. She wants to make Kingfield more accommodating for the homeowners in affordable housing, units that were designed to attract diverse families.
"It's not just about financial compensation, it's that these guys need to change," she said. "These bylaws need to be changed; the parking situation needs to be changed. I have a family. What happens when my kids are old enough to have their own cars? This seems like a problem waiting to happen."
While among her 10 requests there are some monetary components, most of them revolve around modifications that she believes are for the sake of equity.
She wants the HOA board, which is currently manned by three homeowners, to be expanded to incorporate five, "two of which should be affordable housing homeowners," De La Cruz said. And she'd like a mandate requiring said board members to be trained in fair housing laws.
Additionally, she's seeking rule changes that accommodate affordable housing tenants given the differences between their housing situation and the market rate homes—an ability to own more cars and to utilize visitor parking, given the lesser capacity they have on their properties.
"What I would like from all of this is for this discrimination against working class citizens to stop," De La Cruz said. "Affordable does not mean free. We all bought houses during a pandemic. The process conducted by The Housing Action Council to be qualified for these homes was thorough and extensive. No one should be made to feel less because of their socio-economic status, race and medical necessity."
"This is our forever home. We can't be subjected to this for the next 50 years," she later noted. "Moving here was literally a dream come true, our kids could go to good schools. But because I can afford something less, I'm supposed to be treated like differently?"
As of Wednesday, Sept. 13, De La Cruz was still in a state of exhaustion—a drain that comes with overcoming anxiety.
Eagerly, she's waiting for the mediation to be scheduled—hoping it will lead to a conclusion that will finally bring her peace of mind.
---