BBHS's growing band program takes tunes to Yankee Stadium
Band teacher cares 'Lotze' about reshaping music program
September 14, 2023 at 12:41 a.m.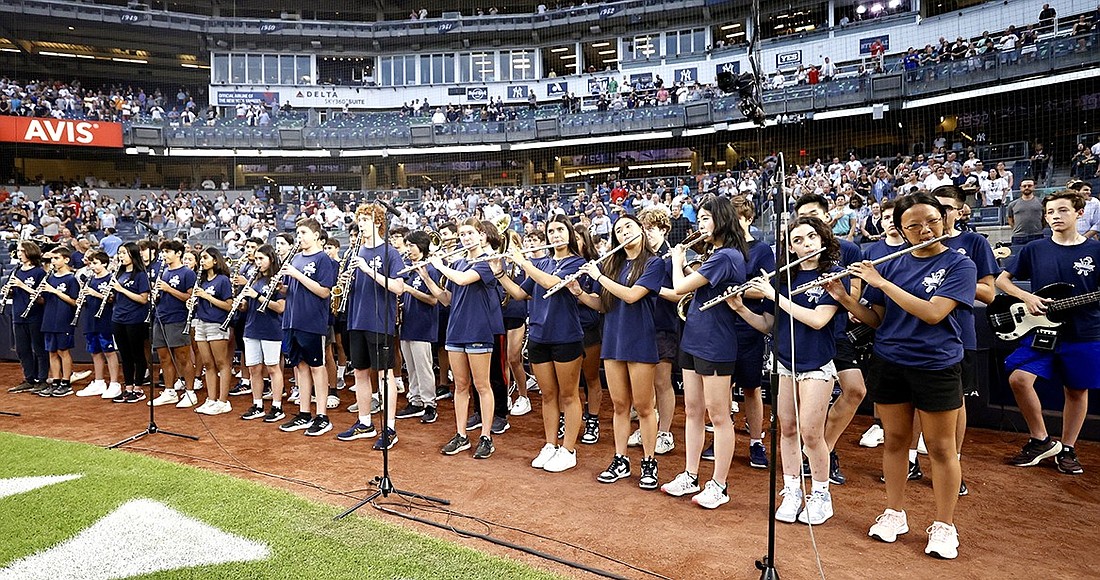 ---
On Thursday, Sept. 7, 47 Blind Brook High School students did something that many people can only dream of: Walk onto the Yankee Stadium baseball field. However, these students weren't there to play ball, they were there as musicians.
In front of over 32,000 fans in attendance, and countless more watching at home, a group of Blind Brook High School band students performed the national anthem behind home plate in matching navy T-shirts. Animatedly leading them in their performance, donning the same attire, was their music teacher, Brian Lotze.
The event marked the start of what should be a productive year for the school's music program, but it was also the culmination of Lotze's efforts to transform it.
Originally from Rochester, the 34-year-old is starting his fifth year in the Blind Brook School District. Having taken over in 2018, Lotze had his work cut out for him.
"It felt like the program was kind of on its last legs. Band was every other day, and only worth half a credit. One section only had five kids in it," he recalled. While the situation he came into seemed grim, the Blind Brook administration was, and has continued to be, supportive of his vision—allowing him to reshape the program into one that made the band and its performances "something cool and fun to be a part of."
It's a vision that's come from his deep experience and passion for music.
Lotze was always intent on pursuing a career in music, achieving his undergraduate degree at the Crane School of Music at SUNY Potsdam and his master's degree from the Aaron Copland School of Music at Queens College. However, his teaching philosophy stems from his experience outside the classroom.
"I want to facilitate a place where kids can play music together," he said, reminiscing on his own participation in bands. Lotze played trumpet in the PitchBlak Brass Band, a 10-member hip hop group, while teaching in Queens and wants students to understand that playing music together is fun.
While attempting to overhaul the program at Blind Brook, "the school was very supportive," he said, pointing to allowances he was given to purchase new audio workstations for the classroom in his efforts to reinvigorate participation.
Unfortunately, just as enrollment was growing, a global pandemic drew everything to a stop. Though Lotze did manage to teach music over Zoom and maintain his class size, he believes the current numbers would be larger had it not been for COVID-19.
"Usually, kids start music at around fifth grade. There's a whole group of kids that missed out on music class since then that are just now becoming my freshmen," he said. But even with the gap in education, Lotze's class size is much larger than what it was when he started.
This year, approximately 50 students are members of the Blind Brook High School Band, and Lotze accepts more to his music class than that. "I've had seniors come up to me and say, 'I have no experience, but I love music,' and then we try to work something out," he said. It's part of his goal to make classes a place where kids can get a full, exciting experience, regardless of what they want to do in the future.
That isn't to say that there aren't students who take the class very seriously.
Junior Rachel Horn and senior Fiona Chen are both All-State flute players in Lotze's class. Having 12 years of combined musical experience, both were somewhat wary of the prospect of playing in the band before Lotze took over.
Prior to entering high school, Chen had vaguely heard of the program, but said she was told it "wasn't very enthusiastic." However, that perception started to change with the shift in leadership.
"We started seeing quality improving when Lotze took over," she said, noting they witnessed a drastic increase in people joining. Horn added that Lotze finds "a lot of opportunities outside of just a 53-minute class" on his push to find external performances.
The Blind Brook High School Band has now found itself playing music far outside the bounds of Rye Brook. In the last two years alone, Lotze oversaw performances at Disney World, where they spent several days participating in a masterclass, and a trip to Citi Field, where they played the national anthem for a Mets game.
At least one student saw the Sept. 7 performance to be more enjoyable.
"Not to say that the Mets weren't incredible, but this felt a little more fleshed out," stated senior trumpeter Joaquin Otero. "It felt like a bigger deal, we got to do a sound check."
Otero was quick to identify himself as a Yankees fan, and fellow senior trumpetist Seth Low concurred.
"We got to walk out of the away team tunnels, and the Detroit Tigers players were tossing us candy and talking to us," he said. "It was special to know that we played for the home team. Aaron Judge was listening to the national anthem played by us."
Although Lotze was the primary reason the event occurred, there were others that were instrumental in making it happen.
Lotze said getting the opportunity was probably the most painless part—he simply cold called the team and asked to do it. But the logistics took some planning.
"There were a lot of sleepless nights," he said, "but I was adamant on making it happen."
He credits the Blind Brook PTA, specifically co-president Correy Stephenson, with putting in an insurmountable effort supporting the program, noting the matching shirts that he designed were funded by the organization.
Many of those parents were in the audience at the game itself that night, proudly watching as their children were given the honor of performing on national television. Lotze's efforts led to this moment, and his students don't just appreciate him, but have an appreciation for music.
On Tuesday, Sept. 12, students walked into their Wind Ensemble class at 1:27 p.m., chatting about moving their lunches together to the band room so they could take advantage of more time to practice. Some vocally wondered what they would be playing that day, while one pupil approached Lotze to update him on a piece he's currently writing.
It was a whirlwind of sounds, bordering chaos, before the teacher simply stepped up onto a platform and clapped three times, bringing all to attention. The lesson went smoothly as he led the class through Randall Sandridge's Deus Ex Machina—slowing down the tempo to allow students to grow accustomed to their parts, encouraging them when they conveyed emotion through their playing.
The joy of the class was overtly mutual.
Ortero said band is more than just a class. Even though he doesn't plan on continuing to study music in college, he would like to play recreationally. And in part, students credit Lotze for that appreciation.
"He's really transformed the program into something that's enjoyable for all of us," Ortero said. And they do their best to relay that to their band teacher, going so far as secretly learning one of The PitchBlak Brass Band songs and surprising him on his birthday with a performance.
Lotze is eager to continue growing the band program—he's currently looking to add more instruments and build at least one recording booth for the Digital Music classroom.
He's doing what he can to ensure the future of the band program looks bright.
---